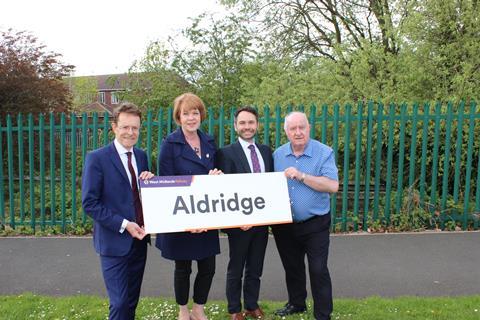 UK: The Department for Transport has given conditional approval for the start of work on an outline business case for a £30m scheme to introduce a passenger service from Walsall to a proposed Aldridge station on the freight-only Sutton Park line.
It is envisaged that there would initially be a half-hourly DMU shuttle offering a 6 min journey from a new single platform station to Walsall, where there would be a cross-platform interchange with electric services giving an overall Aldridge to Birmingham journey time of around 38 min.
Transport for West Midlands is funding the development of plans from its City Region Sustainable Transport Settlement. It said it would be 'actively exploring' ways of providing through electric services in the future.
'With diggers already in the ground working on three new stations on the Camp Hill line alongside Darlaston and Willenhall stations on the Walsall to Wolverhampton line, Aldridge will be a very welcome sixth addition to our region', said Mayor of the West Midlands Andy Street on June 16.
'This is another step forward as we rebuild and reopen many of the railway stations closed by the Beeching cuts of the past — all part of our plans to better connect communities and give local people a genuine alternative to the car.'