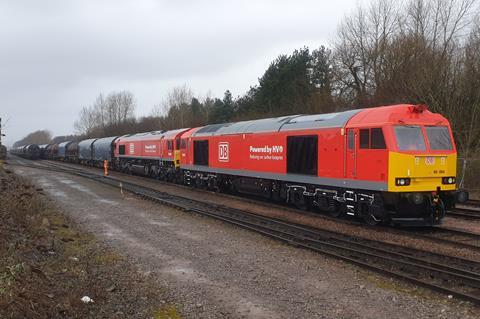 UK: DB Cargo UK and Tata Steel have trialled the use of hydro-treated vegetable oil to fuel a Class 60 diesel locomotive which hauled 2 500 tonnes of steel coil from Margam steel works in Port Talbot to the Round Oak terminal at Brierley Hill in the West Midlands.
This was the first time a Class 60 had operated on the main line network powered purely by HVO, a 100% renewable fuel produced through the treatment of vegetable oils or animal fats which can reduce CO2 and NOx emissions by up to 90%.
'This is another significant milestone in DB Cargo UK's plan to offer all our customers a more environmentally-friendly alternative to traditional red diesel and help them reduce carbon in their end-to-end supply chain', said the operator's Head of Sales Roger Neary on February 19. 'Tata Steel's service was the ideal one to trial it on as they, like us, are continually looking for new and innovative ways to reduce their carbon footprint and impact on the environment. We've now proved that HVO fuel can be used in our Class 60, 66 and 67 locomotives with negligible impact on power output.'
DB Cargo UK's 228-strong locomotive fleet currently uses 45 million litres/year of 'red' diesel which is subject to lower taxes than the fuel used by road vehicles.