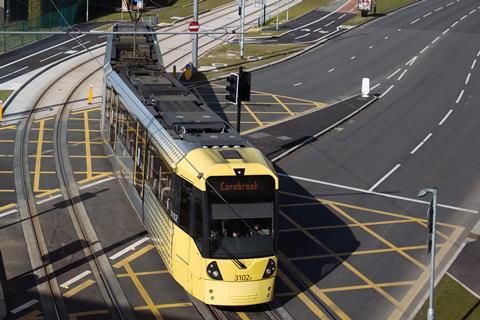 UK: The government has allocated further financial support for five tram and light rail networks in England as part of a commitment to provide £256m for bus and tram services for between eight and 12 weeks.
The funding announced on August 8 aims to enable operators 'to ramp up services as part of wider efforts to safely get people back to education and work spaces'.
| Support for light rail services in England during the pandemic | |
| --- | --- |
| Network | £m allocated |
| Manchester Metrolink | 44 |
| Sheffield Supertram | 6∙8 |
| Nottingham Express Transit | 12∙1 |
| West Midlands Metro | 5∙7 |
| Tyne and Wear Metro | 24∙7 |
The five light rail and tram systems will receive funding of up to £37·4m to ensure operation can continue for a further 12 weeks; this provision differs from the £218·4m allocated to bus operators which covers eight weeks of support and will be followed by 'rolling funding at up to £27·3m per week afterwards, until a time when the funding is no longer needed'.
The provision of £3·1m a week for tram and light rail operations will be reviewed at the end of the eight week period.
DfT confirms that with services now at 80% of normal levels, the money will enable operators 'to mitigate the impact of the loss of revenue, while continuing to build back to normal service levels'.
DfT states that this latest round of funding 'means total support during the pandemic for bus and tram services will reach at least £700m'.
The provision of support for light rail services in the longer term remains unclear, but the government says it is already 'actively working' on ways to ensure the bus sector can operate independently.
Whilst DfT has not currently issued statistics for light rail use through the pandemic, data for main line rail shows that from a base of 100% on March 9 compared with the equivalent week in 2019 usage fell to a low of 4% of the equivalent week on April 10, with passenger numbers remaining at roughly the same level until the middle of May. A steady increase to 29% on June 26 was followed by a slight decline back to approximately 23% on August 3.