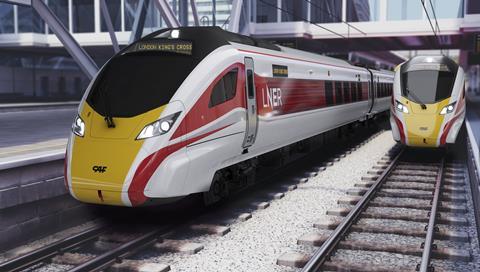 UK: London North Eastern Railway has awarded CAF a contract to supply a fleet of 10 tri-mode 200 km/h inter-city trainsets for use on East Coast Main Line passenger services.
The trainsets will be financed and owned by leasing company Porterbrook. CAF said the order announced on November 9 is worth more than €500m, including a maintenance services agreement running for eight years with an option to extend.
Tri-mode Civity UK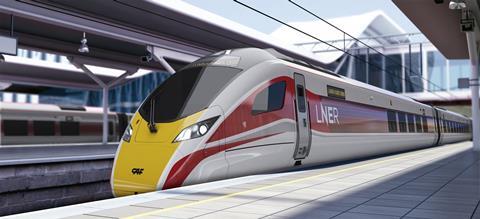 The 10-car trainsets from CAF's Civity UK family will be able to operate using 25 kV 50 Hz overhead electrification, a combination of battery and diesel power or battery-only, with the ability to switch modes while stationary or on the move.
The battery will be recharged in both electric and diesel modes, and will be used for emission-free arrival and departure from non-electrified stations. The range on battery power is to be determined at the design stage. The trainsets will be upgradeable, with an expected increase in range and performance as the technology develops further.
LNER said benefits of tri-mode trains would include a reduction in emissions, particulates, noise and vibration, as well as lower maintenance and operating costs. The manufacturer said the trainsets would be 'fitted out with state-of-the-art safety technology' and meet 'the most stringent requirements' for interior design and passenger comfort.
The operator said details of when the new fleet will enter service would 'follow in due course'. They are expected to operate on all routes apart from to Inverness and Aberdeen.
'Successfully delivering this new fleet is an integral part of LNER's business plan', said Managing Director David Horne. 'Our focus is ensuring we create a fleet that truly matches the needs of all our customers, with clear targets on setting new standards for comfort, accessibility and exceptional customer service.'
Newport factory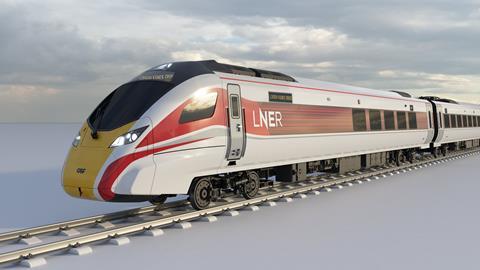 The trainsets are to be assembled at CAF's Newport site in South Wales. ERTMS equipment will be supplied by CAF Signalling.
'Securing this high-profile contract is testament to CAF's hard work and continues our successful track record in the UK market', said CAF UK Director Richard Garner. 'The new contract will help secure CAF's future in the UK and support the recruitment of additional employees and apprentices at both the Newport factory and in the north of England where the units will be maintained.'
Commenting on the order placed by state-owned operator LNER, Rail Minister Huw Merriman said 'replacing ageing rolling stock is crucial to the sustainability, reliability and growth of our rail network'.
He said 'private sector investment plays an important role within the UK rail industry and this order will help drive economic growth across the country while supporting skilled jobs.'