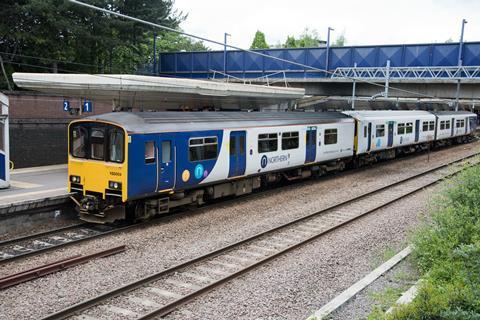 UK: Rail Minister Huw Merriman announced a £72m programme of investment for the network in Greater Manchester during a visit to Manchester Victoria station on May 25.
This will fund a third platform at Salford Crescent and track improvements at Salford Central and Manchester Victoria to help reduce bottlenecks, delays and station overcrowding. Manchester Victoria station will also gain extra platform entry and exit points to improve passenger flow at busy times.
The Department for Transport said the announcement follows £84m of government investment ahead of the December 2022 timetable change, which included funding for platform extensions for longer electric trains. 'As a result, delays across central Manchester have already decreased by 40% compared to 2019-20 levels, exceeding initial expectations', DfT said.
Plans around demand not infrastructure
Northern Trains Performance & Planning Director Rob Warnes said the latest package is designed to improve performance and enable services to be planned around passenger demand rather than the available infrastructure.
'Currently many trains that arrive from Leeds go into a terminal platform at Victoria after crossing over the layout, using up capacity. Once the improvements have been made, the services from Leeds will continue through Victoria on the other side of the layout and run through to Salford Central where they will terminate in sidings beyond the station and turn back.
'This allows us to better connect Salford from West Yorkshire and it also means that a train that currently has to cross the diagram to terminate here, blocking trans-Pennine traffic, will be able to run on through to Salford. There will also be a pair of turnbacks at the northeastern end of Victoria.'
He explained that 'one of the current service groups is Leeds to Wigan, and that's not a natural fit but it is constrained by the infrastructure. When more trains started to serve Victoria, there wasn't room to terminate them, so they had to go through to somewhere. We also have to run longer trains at certain times to hit Leeds, but we have to bring them all the way from Wigan.
'What we want to do is create a second Leeds to Salford service, leading to one that goes via Brighouse and one via Bradford, and terminate both at Salford Central.
'The service from Wigan will then come in and terminate at Victoria. Eventually, we'll able to do some more swaps of destinations because we'll have the Wigan – Bolton electrification by then; the sidings will enable us to reconfigure a lot of north Manchester.
'Meanwhile, putting the third platform in at Salford Crescent means that the signallers will get more choice in the ordering of the trains as they come into Salford. That will give them a better chance of hitting north Manchester in the right order and in the right time slots, and for many services there will be a performance benefit by not having the weave across the diagram.'
Manchester Task Force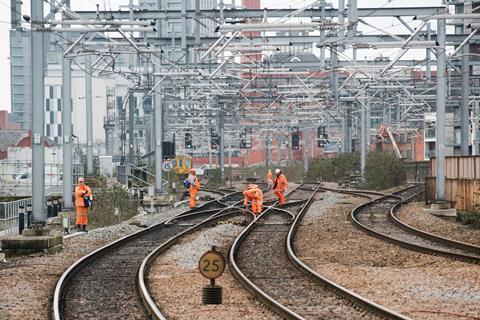 The plan is based on recommendations from the Manchester Task Force, a cross-industry body including Network Rail, Transport for Greater Manchester, Transport for the North and train operators.
Merriman told Rail Business UK that 'the Manchester Task Force guided us into how we spend the £72m. I've walked around [Victoria] station and can see the bottlenecks and the interventions that can be made. There's too much dwell time in the station and the idea of delivering more sidings means they can reduce that.
'We've got longer trains and newer trains, so the extra platform at Salford Crescent will be great assistance there as well. These interventions that are actually guided by the local rail industry and the stakeholders are the best way to deliver.'
Managing Director of Network Rail's North West & Central Region Tim Shoveller said the latest plans are 'a really good example of how the Manchester Task Force has worked, because the original thought was to put the turnbacks at Victoria. Working together has brought the right result and the good thing is that it hasn't gone through a load of GRIP stages — in fact in some cases it's been done by people standing on the platform making decisions after having a look and saying that's the right thing to do.
'It's a practical way of making change happen quickly. The important thing is we are creating the infrastructure to deliver the train service rather than the other way round, which has happened all too often', Shoveller added.