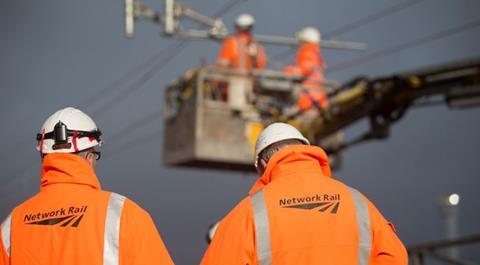 UK: Network Rail is to reduce the risk fees applied to third-party work from April 1, in a move which the Railway Industry Association said would open up the opportunity for more organisations to work near railway lines.
In an effort to encourage outside investment, Network Rail and the Office of Rail & Road set up a system in 2006 to address commercial and industry liabilities taken on by the infrastructure manager when working with third parties. Risk fees are applied as percentage uplifts to third-party agreements, and used to fund Network Rail to take on certain risks and pay the costs of these should they occur.
After reviews within the industry and with ORR, it has now been decided that the percentages can be reduced for development services and asset protection agreements.
'We are always looking for ways to improve value for money and make it easier for the industry to do business with us', said Helen Andreou, Network Rail Director Corporate Commercial, on March 8. 'With this fee reduction, we will pass on our risk efficiency savings to our third-party customers, to make it cheaper for them to invest in the railway. We have challenged ourselves on costs and we are starting to see a trend of improving control over some of our third-party risks.'
Network Rail has also streamlined its claims process, and made agreements easier to use by explaining the risk allocation and adopting agreed national frameworks to reduce contract development time and cost.
David Clarke, Technical Director at the Railway Industry Association, said the reduction in third-party works fees was 'good news, opening up the opportunity for more organisations to work near rail lines, helping support the development of land near the railway network and unlocking private investment into the rail industry.'
He added 'it is positive to see Network Rail taking these measures to get more investment into the railway, an area which rail suppliers are keen to support'.