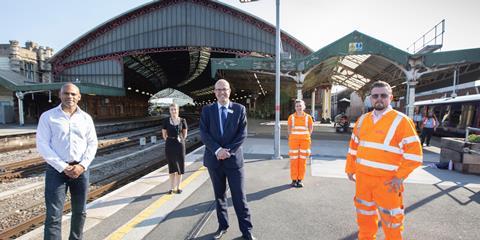 UK: Network Rail has appointed Taziker as principal contractor to refurbish the station roof at Bristol Temple Meads, the first step in a phased modernisation of the city's principal passenger hub.
The £24m contract announced on June 26 will see Taziker reglaze the roof and canopies to give a brighter experience for passengers. Work on the Grade I listed structure is intended to  protect it from further deterioration, and will include extensive metal and woodwork repairs. According to NR, this is the first major refurbishment of the station roof in more than 25 years. Completion is due in 2023.  
The roof work is the first stage of a programme of enhancements focused on the station. These will include complete rewiring of the electrical system, construction of an additional entrance giving better access to a planned university campus and the eastern districts of the city, and remodelling of the approach tracks. 
'This is a great moment for Bristol and the whole west of England as we will be providing a brighter station for passengers', said Mike Gallop, Western Route Director at Network Rail. 'This is just the first step in providing a world-class station to enable more people to get to their jobs and encouraging more investment in the area.'