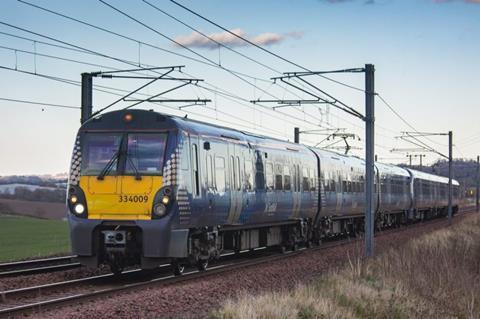 UK: Off Peak tickets on routes where fares are controlled by ScotRail will be valid all day under a six-month trial running from October 3 until March 29 2024.
The Scottish government-funded project aims to encourage people to travel by rail instead of car. ScotRail said the pandemic had radically changed the commuter market, with the number of people travelling during the traditional peaks now 70% of pre-pandemic levels.
'This is a hugely exciting opportunity for Scotland's Railway to encourage more people across the country to choose rail travel instead of using the car', said Scotland's Railway Managing Director Alex Hynes on September 13. 'Everyone at ScotRail is working hard to make sure that this six-month trial will be a success, and we will be monitoring our services and stations daily to see where we have any significant increases in customer journeys.
'We know that cost and simplicity is a critical factor for people when they choose how to travel, and we are looking forward to delivering this fantastic fare reduction for our customers.'
Off-peak fares and products that are set and controlled by ScotRail will be valid for travel all day. On flows set by other operators (Dunbar – Edinburgh, Lockerbie – Edinburgh, Lockerbie – Glasgow, Reston to all of Scotland) no time restrictions will be removed or fares reduced. Multimodal products that specify off-peak travel will now be valid all day on rail, but restrictions on other modes may still apply. National railcard minimum fares will remain in place during the pilot.
The Scottish governments said it would 'carefully consider the impact of the pilot and the long-term sustainability of such a proposition' before committing to any extension of the scheme.
Example Anytime and Off Peak single fares
Inverkeithing – Edinburgh
£11·10/£6·50
Perth – Dundee
£14·40/£9·90
Glasgow – Stirling
£16·10/£9·60
Inverurie – Aberdeen
£11·10/£8·90
Inverness – Elgin
£22·00/£14·40
There will no change in fares on routes where no off-peak fare currently exists.