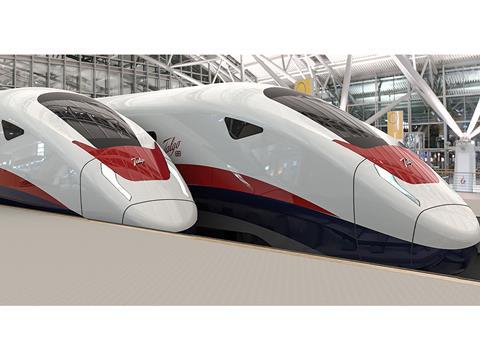 UK: Talgo has shortlisted the port of Mostyn in north Wales as one of six potential sites for its proposed UK rolling stock manufacturing plant, the company announced in Cardiff on October 9.
The other sites include St Helens, Leeds and Chesterfield in northern England, and Hunterston or Longannet in Scotland. A decision on a preferred site is expected next month, although a final go-ahead would depend on the company obtaining an initial order.
Talgo has been shortlisted to bid for the supply of 'at least' 54 'classic compatible' 360 km/h trainsets for Phase 1 of HS2 between London and the West Midlands, based on its Avril concept. However, it said the UK plant could also be used to manufacture rolling stock for other domestic applications as well as exports, augmenting the capacity of its two existing facilities in Spain.
Talgo said it was looking enter the UK train market, through 'true manufacturing', sourcing components from within the UK rather than assembling kits from elsewhere. It believes this would 'grow the UK's manufacturing capability, strengthen supply chains, create more jobs, and boost local economies'. The company anticipates that a future UK plant could generate up to 1 000 jobs.
President Carlos de Palacio said 'although there can only be one factory site, we have developed excellent relationships with areas that we have visited. We anticipate continuing these relationships to ensure that Talgo provides opportunity across the UK.'
Asked whether the final decision might depend on the availability of regional development grants, Talgo UK director Jon Veitch said 'indicative commercial offers have been presented to us as part of the evaluation, but this is subject to negotiation. These incentives are not the overriding decision, as we wish to have a lasting legacy and a long-term establishment in the UK.'
The Welsh government's Cabinet Secretary for Economy & Transport Ken Skates said he was 'hopeful' that Talgo would choose Mostyn, adding that north-east Wales had a 'huge amount' to offer.