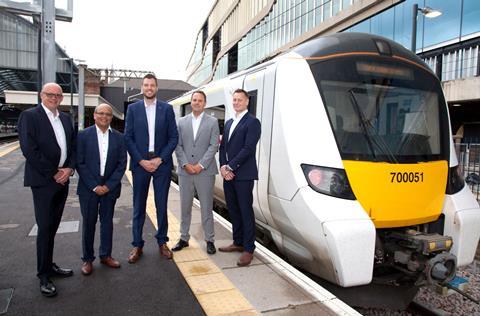 UK: A five-year contract to upgrade the Class 700 Thameslink EMU fleet to the latest specification of European Train Control System has been awarded through the cross-industry East Coast Digital Programme.
The £32·7m contract announced on June 21 was signed by infrastructure manager Network Rail, operator Govia Thameslink Railway, the Department for Transport, train provision supplier Cross London Trains and Siemens Mobility, which built the rolling stock and is also the train control technology partner for ECDP.
The 60 eight-car and 55 12-car Class 700s were equipped with ETCS onboard equipment from new, in order to support automatic train operation through the Thameslink core.
The route between London Bridge and St Pancras was fitted with lineside equipment meeting the interoperable Version 2.3.0d specifications from 2016, but in order to support ATO the trains used an early version of the Baseline 3 specifications, designated Version 3.3.0. This paved the way for a world-first demonstration of ATO over ETCS in March 2018.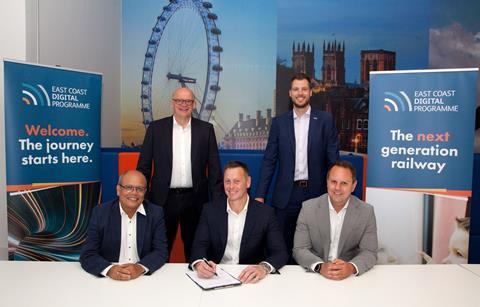 The new contract will see the 115 units upgraded to the interoperable Version 3.6.0 software, which has been adopted as standard for the ECDP. The work will also include hardware modifications to facilitate cold movement detection, the installation of packet-switching GSM-R radios, and an upgraded driver-machine interface, along with a KLIP interface module, new wiring and changes to the databus.
Software design and development is due to take place later this year, leading to a programme of testing and commissioning on the 'first-in-class' unit from 2024. Following the completion of the safety approvals and validation process, the upgrades is due to be rolled out across the rest of the fleet in 2026.
The latest contract complements the first-in-class work now underway to retrofit ETCS to Great Northern's Class 387 Electrostar EMUs as part of the wider ECDP fleet fitment programme.
'Preparing and upgrading trains is the biggest challenge ECDP faces, due to the complexity involved with many partners and commercial arrangements', commented Network Rail Principal Programme Sponsor Ed Akers. 'We've worked hard to secure this new contract for the largest passenger fleet on ECDP and all parties will be working collaboratively to ensure effective delivery of these upgrades.'
Aaron Meakin, ERTMS Fleet Project Manager at Govia Thameslink Railway, said the signing of the contract was 'great news for our trains, our passengers and the East Coast Digital Programme'.