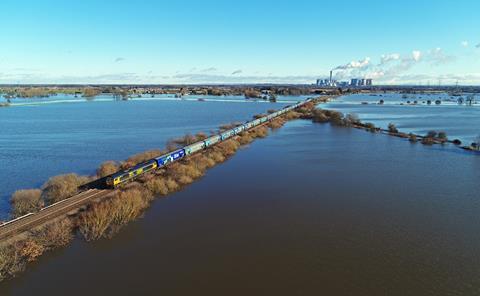 UK: The line serving Drax Power Station in North Yorkshire was reopened on April 20, after what Network Rail described as as 'unprecedented 24/7 operation' to repair flood damage.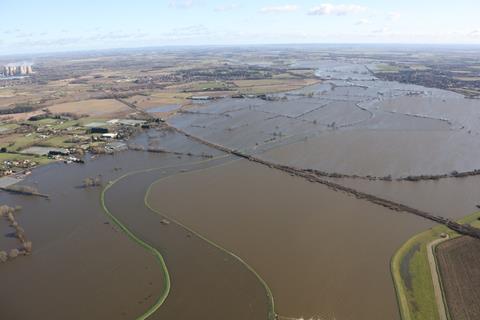 The branch on the former Hull & Barnsley Railway alignment between Hensall Junction and the power station was inundated when the River Aire burst its banks after heavy rain in February.
One of the two tracks had to close during the repair works, but Network Rail and contractor CML were able to keep the other open to allow more than 90 trains/week to carry biomass to Drax, which supplies 5% of the UK's electricity. This required round-the clock monitoring of the embankment for any further movement, as well as reworking of the timetable.
The repairs cost £300 000, and included the use of divers to inspect underwater structures and drones and helicopters to assess the extent of the damage.
Several koi had also escaped from a pond, and Network Rail worked with the landowner to transport them home.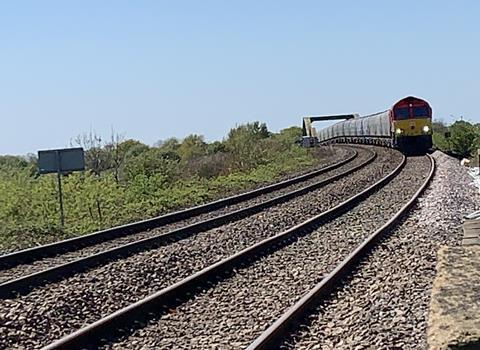 'This was an unprecedented operation to deal with an unprecedented situation', said Chris Gee, Head of Operations for Network Rail's North & East Route. 'It's never been more important for us to keep freight services running, so we pulled out all the stops to maintain this vital link while we conducted repair work at the same time. Our teams have worked non-stop to make sure that crucial deliveries of biomass have been able to run despite severe flooding, which has been incredibly important to keep the nation powered up.'
'The efforts applied demonstrate again the importance of rail freight during these trying times in keeping the lights on and food on the tables', said GB Railfreight Managing Director John Smith.
DB Cargo UK's Head of Sales Roger Neary said 'communication and collaboration by all parties has been brilliant' and this 'ensured a seamless supply of material to the power station'.