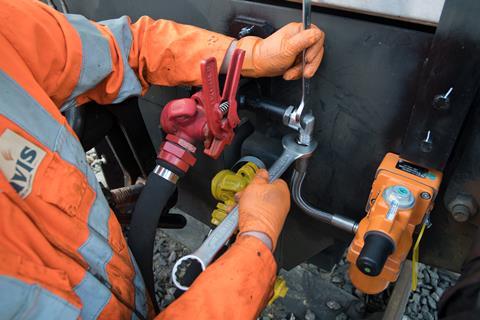 UK: Knorr-Bremse has developed a wagon derailment detector that can immediately initiate an emergency brake application, with the first UK deployment now underway on Drax Power's biomass wagon fleet.
The detector identifies the signs of a derailment and immediately initiates an emergency brake application to bring the train to a halt and minimise damage.
The EDT101 is a passive pneumatic-mechanical unit that does not need an external power supply. Installation is simple, with the main brake pipe being connected to the stopcock which is connected to the EDT unit. Opening the stopcock allows air to enter the EDT. In the event of a derailment, the valve reacts to the abnormal vertical movements and opens the brake pipe, which initiates emergency braking. A red indicator pops out of the EDT housing so that once the train has stopped a crew member can quickly identify the derailed wagon or axle even if the vehicle has re-railed itself.
Following activation, the system will also reset itself automatically. If it is safe, the vehicle can then be moved to clear the line or to a better place for recovery, or allowed to continue running if this is deemed acceptable. The EDT101 indicator will continue to show until it is reset by hand, enabling further checks to be carried out later.
The EDT101 meets International Union of Railways standards and can be fitted to new or existing wagons. The devices operate as a closed system, and wagons with detectors can work with those without.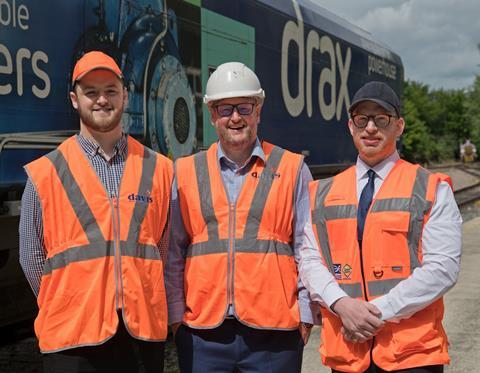 In May this year, Davis Wagon Services began deployment on Drax Power's fleet of 225 high-capacity biomass wagons manufactured by parent company WH Davis, plus 30 more wagons which are on order; Knorr-Bremse says this is the first time a derailment detector product has been fitted to UK wagons.
'As soon as we presented this project to Drax, they recognised the benefits and could see that this would add safety to the network', said DWS Managing Director John Hall on September 11.