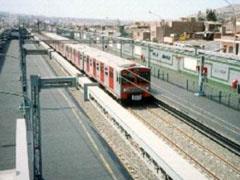 The construction of Lima metro Line 2 is amongst projects being promoted to Asian investors at roadshows in Beijing, Shanghai, Seoul and Tokyo.
Plans for a light rail line in Phnom Penh were discussed by Cambodian Foreign Minister Hor Namhong and French ambassador Serge Mostura on April 8. Systra is carrying out a feasibility study for the project, but no date has been set for the start of construction.
EIB is providing a 1bn złoty loan for construction of the initial 6·7 km section of Warszawa metro Line 2.
The city government has agreed a two-year extension to Metrovías' concession to operate the Buenos Aires metro. The city will retain non-farebox income such as advertising which will be used to fund infrastructure improvements.
On March 26 Transdev Chairman & CEO Jean-Marc Janaillac unveiled his strategy to achieve 'financial, economic and business recovery' in 2013-15. The former Veolia Transdev business is to refocus on 17 countries, disposing of 'capital-intensive and/or low-growth activities' including those in eastern Europe which are being acquired by DB. Transdev will continue to develop its railway expertise, 'but with a focus on markets not requiring heavy investment in rolling stock'.
Transport for London has shortlisted Stagecoach, Keolis/Amey Rail, Serco and Go-Ahead/Colas Rail for a franchise to operate the Docklands Light Railway from September 14 2014.
The Saudi Council of Ministers approved a draft seven-year transport plan for Jeddah on March 11. The 45bn riyal plan includes a three-line light metro, as well as buses and marine transport.
The US Federal Transit Administration has given approval for the Phoenix Valley Metro 4·2 km Tempe streetcar to enter project development.
A 1·5 km southern extension of Paris metro Line 4 to Mairie de Montrouge opened on March 23. A second phase due for completion by the end of 2019 will see the line extended by 1·7 km to Verdun Sud and Bagneux.
A 1·2 km extension of Athens metro Line 2 from Aghios Antonios to Peristeri and Anthoupoli opened on April 6.
New York MTA has agreed the first of two 99-year ground leases with Related Companies and Oxford Properties Group which are to build a raft over Long Island Rail Road sidings in Manhattan and develop 10·5 ha of mixed-use space.