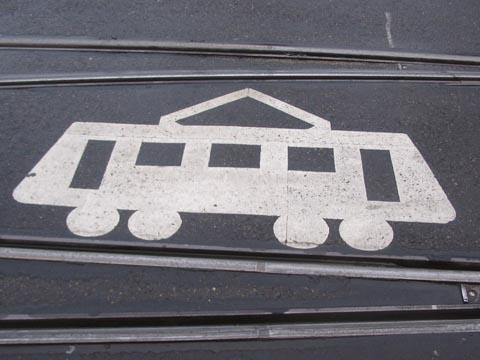 An experiment that began last September to remove up to 14 seats from six of Chicago Transit Authority's 39-seat 'L' cars to reduce overcrowding has ended, with public opinion against converting any more cars to 'Maxi' configuration. Additional stanchions and grab handles were added to the test cars for safety, but the cars will not be restored to their original layout.
Praha urban transport authority DPHMP is introducing an electronic passenger information system at tram stops across the city, following installation of a prototype at Nádrazí Vysocany tram stop. By the end of 2009, a total of 271 displays will be installed at 120 tram stops.
Maryland state has chosen light rail technology for the proposed 25·7 km, $1·7bn Purple Line connecting New Carrollton and Bethesda, with 21 stations. Operator Maryland Transit Administration will now seek federal funding and hopes to start construction by 2013, with revenue service on the orbital route around Washington DC beginning three years later.
EBRD is providing L'viv Electrotrans with a €12m loan to fund track modernisation, electronic ticketing and the acquisition of new trams for the Ukrainian city.
Trains on Hong Kong's Tseung Kwan O line are now running on the branch to Lohas station, following its inauguration on July 26. Three out of every four trains continue to run from North Point to Po Lam. LCD screens have been installed at all TKO Line stations to display train destinations.
Maryland Transit Administration published a preferred route alignment last month for the Red Line light rail project in Baltimore. The 22 km 20-station east-west line will run from Woodlawn to Johns Hopkins Bayview medical complex.
The European Investment Bank has loaned a further €250m to fund the Thessaloniki metro project, taking the total amount to €650m. The latest loan covers the design, construction, testing and commissioning of phase 1, comprising 9·6 km running west to east across the city with 13 stations and a depot. In July six consortia submitted expressions of interest for the proposed 4·8 km five-station extension to Kalamaria valued at €425m.
An A$250000 study will be conducted to assess potential light rail extensions in Sydney's Inner West and CBD areas. Four local councils - Ashfield, Marrickville, Leichhardt and City of Sydney - will provide A$140000 towards the cost, with the remainder financed by the NSW government. The study will take about six months.
The Chicago Transit Authority board on August 3 adopted locally preferred alternatives for three proposed 'L' extensions: an 8·5 km Red Line expansion south from the existing 95th Street terminal to 130th Street with four new stations; a 3·7 km Orange Line alignment along the Belt Railway right-of-way from Midway Airport station to approximately 7600 South Cicero Avenue with one new station but provision for a future intermediate stop at 67th Street; and a 2·6 km single track Yellow Line extension from Skokie to a new station south of Old Orchard Road. Following public hearings, an Environmental Impact Statement and preliminary engineering will be prepared. The total capital cost, including rolling stock, is put at $2bn but funding is not yet in place.
A groundbreaking ceremony for Hong Kong's West Island Line was held on August 10 to mark the start of construction work (RG 8.09 p13).
Los Angeles MTA has installed ticket gates at four Metro Red Line stations and began initial testing at the end of August. If the trial goes smoothly, the installation of all 379 units purchased for $46m from Cubic Transportation Systems will proceed later this year. All Red Line and Green Line stations will be gated, along with key locations on the Blue and Gold light rail lines, as part of a transition to TAP smart cards by early 2010. The Red Line has been the only US heavy metro line operating on the honour system but Lamta estimates it loses about $5m annually from fare evasion.
The Department of Transport in Abu Dhabi has invited consultants interested in preparing a detailed light rail study to submit bids by August 30. The emirate's Surface Transport Master Plan evisages a 340 km network serving the Central Business District, the future Capital City and the area around Raha, Yas and the airport. Contract scope includes conceptual design and tender documentation for the light rail system, the first sections of which are due to be operational in 2014.
New Jersey transportation officials have decided to extend the Hudson-Bergen light rail line along Bergen County's Northern Branch freight line from Ridgefield to Tenafly instead of equipping the 17 km route with low-emission DMUs. The project will cost an estimated $900m and is currently unfunded. Nearly $40m has already been spent on engineering and environmental studies for the DMU option, which will now be updated to reflect the change of plan.
The project to develop a rail link to Timisoara airport in Romania was approved by the local council on August 4. A 3 km stretch of electrified double track will be built to connect the airport to the CFR network.
Wiener Linien is reported to have halted delivery of 104 Ultra Low Floor trams on order with Siemens, following a fire which gutted an ULF tram operating on Line 67 on July 26. According to Wiener Linien, the noise insulation cover at the rear of the tram caught fire. The 196 vehicles already delivered will undergo safety checks.