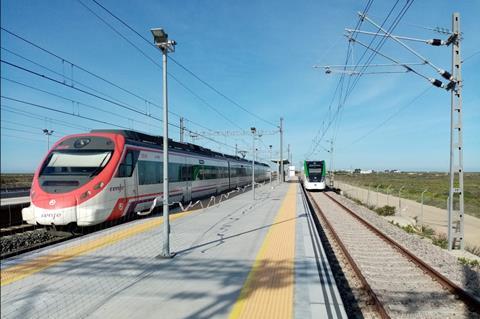 SPAIN: Following authorisation by notified body CETREN on March 13, test running is set to begin this month along the full 24 km length of the tram-train route between Chiclana de la Frontera and Cádiz.
Initially planned to open in 2017, the tram-train project covers construction of 14 km of 1 668 mm gauge tramway in the towns of Chiclana and San Fernando, plus adaptation of 10 km of ADIF tracks to enable tram-trains to share the main line to Cádiz.
Initial commissioning tests have already taken place over an 800 m stretch of the line around the junction at Rio Arillo where the tramway meets the main line. These have focused on the handover between the CAS-E train protection system used on the street running section and the ASFA train control used on the national network, as well as the changeover between the tramway's 750 V DC power supply and ADIF's 3 kV DC.
The Andalucía regional government ordered seven tram-trains from CAF to operate the service, which is now expected to start in 2021. Each three-section Urbos LRV is 38 m long and 2 600 mm wide, and features enhanced crashworthiness for main line running.