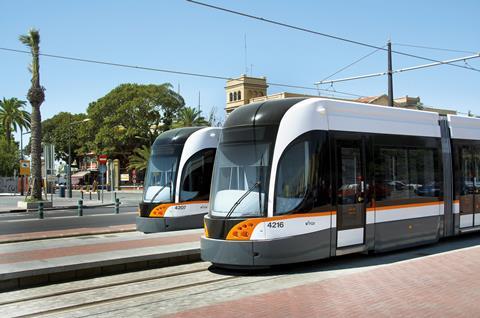 SPAIN: Municipal operator FGV has resumed work to complete light rail Line 10 in Valencia. Originally known as tram line T2, work started in 2006 and was halted in 2011 on financial grounds, with around €200m having already been spent.
Line 10 will eventually run from Tossal del Rei to Marina Reial Joan Carles I, sharing parts of its route with existing light rail services. A new cross-city alignment is needed between Pont de Fusta on Line 4 and Grau-Canyamelar on Line 8.
Between Tossal del Rei and Pont de Fusta, LRVs will share tracks at grade with lines 4 and 6. At Pont de Fusta, Line 10 will dive under the river Turia before running under the city centre at a depth of 30 m, returning to the surface at Amado Granell.
Excavation of the tunnel has yet to start, but a deep level station at Mercat Central was largely completed by mid-2013. This was excavated using cut and cover techniques under a €32·9m contract awarded in June 2007 to Dragados-Pavasal.
Track and station work on the 5·3 km surface section from Amado Granell to Natzaret is largely complete with only electrification and minor rehabilitation tasks outstanding following a decade of abandonment. In March 2019, FGV awarded a €3·9m, 7½-month contract to FCC Construcción for this work.
FGV now envisages expanding the depot at Natzaret and extending the line via the port and Edifici del Rellotge to an interchange at Grau-Canyamelar, from where Line 10 will share tracks with Line 8 to the terminus at Marina Reial Joan Carles I.
In 2019, the total cost of completing Line 10 was put at €50m, with opening of the initial sections expected by the end of 2021. The EU has contributed €20m to the cost with the rest coming from local sources.
In mid-January, FGV awarded a €25m, 18-month contract to Copcisa and Vialobra to complete three more deep-level stations at Alacant, Russafa and Amado Granell. This will involve repairs to structures built earlier and completion of fit-out.