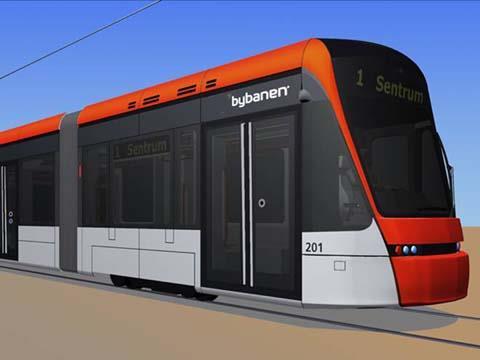 STADLER Pankow has been selected to supply 12 low-floor Variotrams for the 10 km Bybanen light rail line in Bergen, which is scheduled to open in 2010.
The initial contract covers technical and cosmetic design of the vehicles, as well as the acceptance process with the Norwegian Railway Inspectorate. The City of Bergen expects to sign a formal production contract later this year, which is likely to include an eight-year maintenance agreement, with first deliveries in June 2009. The award of two separate contracts is designed to allow for a final review of infrastructure costs before tram construction begins.
Similar to the vehicles operating in Chemnitz and Sydney, the bi-directional trams will be 100% low-floor, and capable of carrying more than 200 passengers. With a maximum speed of 70 km/h, they must cope with a maximum gradient of 7%, and a minimum horizontal curve radius of 25 m.
Each Variotram will be fully accessible, with a level boarding height of 350 mm, and will be equipped with air-conditioning, wireless internet, video surveillance, a passenger information system with speakers and TFT screens, smart-card validators, and space for wheelchairs and prams.
Although the final price of the tram package is yet to be established, the Bergen authorities insist it is 'well within' their preliminary budget of €30m.