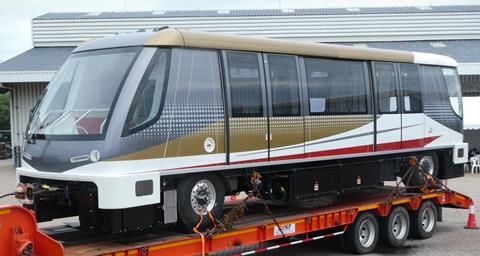 THAILAND: Bangkok Mass Transit System has taken delivery of the first of three two-car Bombardier Transportation Innovia 300 automated peoplemover sets for the future Gold Line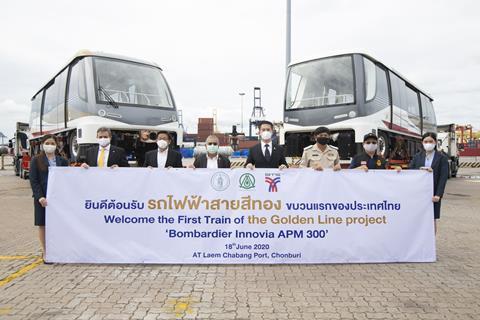 The 2·7 km first phase of the Gold Line will connect the existing BTS Green (Silom) Line Skytrain station at Krung Thon Buri with residential and commercial property developments. There will be three stations, with Charoen Nakhon serving the Iconsiam shopping and mixed-use development and Khlong San for the Taksin Hospital.
The first 1·7 km and two stations are scheduled to open in October, followed by the full line in early December.
Bombardier Transportation is supplying the vehicles, lineside systems and its Cityflo 650 automated control system. Design and delivery is being managed from its engineering centre in Bangkok, with the vehicles manufactured in China by the CRRC Puzhen Bombardier Transportation Systems joint venture.
ST Engineering is supplying the automatic fare collection system, and Teltronic the TETRA radio communications. AMR Asia is system integrator.
A proposed second phase would extend the like to the Phra Pok Klao and Memorial bridges.
The first Bombardier Innovia monorail 300 trainsets for Bangkok's Pink and Yellow lines are scheduled to be delivered in October.