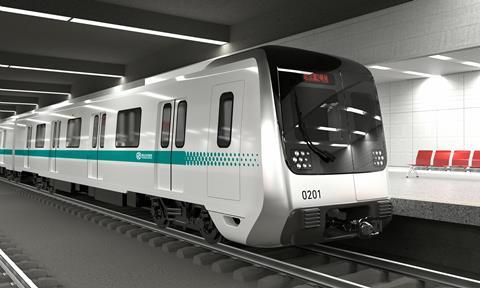 CHINA: Harbin Metro Corp has ordered 65 six-car Type B trainsets from the Changchun Bombardier Railway Vehicles Co joint venture of Bombardier Transportation and CRRC Changchun, under a 1·2bn yuan contract announced on September 7.
Opened from 2013 onwards, the metro network serving the 10 million inhabitants of Heilongjiang's provincial capital has been designed to cope with severe winter temperatures. It runs entirely underground and is electrified at 1·5 kV DC using an overhead supply. CRRC Changchun supplied the initial fleet of six-car Type B trainsets for Line 1.
The first 36 of the CBRC-built trains are intended to operate on Line 2, alongside a build of aluminium-bodied Type B2 trainsets unveiled by CRRC Nanjing Puzhen earlier this year. The first 28·7 km section of this underground line with 19 stations is scheduled to open in 2021, running from Jiangbei Daxuecheng in the north to Qixiangtai in the southeast via Harbin's main station and an interchange with Line 1 at Bowugan.
The remaining 29 trains are destined for the 37·6 km circular Line 3, which is due to be completed in 2022. The second phase of this line will add 32·2 km and 30 stations to the 5·4 km section that opened in January 2017, linking Harbin Xi station to Line 1 at Yidaeryuan. Completion of the ring will add a further interchange to Line 1 at Taipingqiao.
The latest order takes the total number of metro cars ordered from CBRC to 2 900 vehicles. Since its establishment over 20 years ago, the 50:50 joint venture has supplied metro trains to Shanghai, Guangzhou, Shenzhen, Beijing, Wuhan, Bangkok and Singapore.
'We appreciate the trust of both Harbin Metro Corp and CRRC Changchun', said Bombardier Transportation China President Jianwei Zhang. 'We will deliver the cutting edge metro cars on time at quality and within budget despite the challenges of Covid-19.'