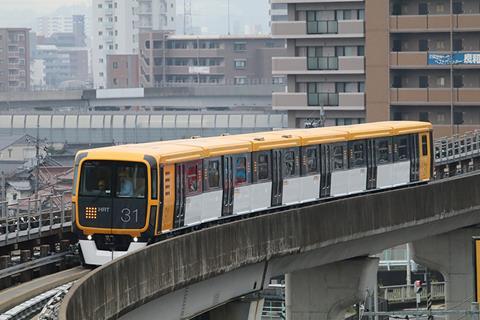 JAPAN: Hiroshima Rapid Transit Co has awarded Mitsubishi Heavy Industries Engineering a contract to supply a further 13 six-car Series 7000 Automated Guideway Transit rubber-tyre trainsets to replace existing vehicles on the 18·4 km New Transit Line 1, known as the Astram Line.
The trainsets will be locally manufactured at the Mihara Machinery Works in Hiroshima prefecture.
The order announced on September 10 follows on from a previous order for 11 six-car sets which was placed in July 2017. These began entering service in March this year, and deliveries of the full fleet are now expected to be be completed by the 2024 financial year, earlier than originally planned. MHIENG will also service the vehicles after delivery.
The Series 7000 has a double-skin aluminium alloy structure offering light weight, durability and easy recycling. MHIENG's T-smover bogies are designed to be lightweight and durable, with minimal noise and vibration and easy maintenance.
The chrome yellow livery is intended to symbolise peace, which the manufacturer said was 'a befitting symbol for Hiroshima'.