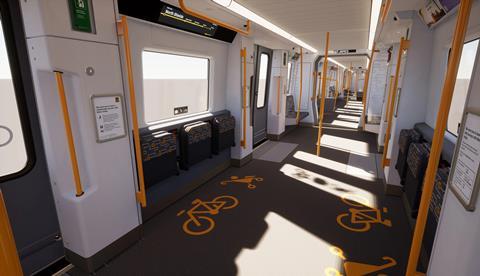 UK: The interiors of the new Tyne & Wear Metro fleet will provide an 'open-plan and linear' seating layout, with design changes made following feedback from passengers, staff and user groups.
Stadler is to start production of the new fleet in August, with the first of the 42 trains expected to enter passenger service in 2023 and deliveries running into 2024.
The trains will have 116 seats including 12 tip-up seats, four dedicated wheelchair spaces and two multi-use areas suitable for non-folding bicycles, pushchairs, buggies and luggage. A sliding step at each door will aid boarding and alighting.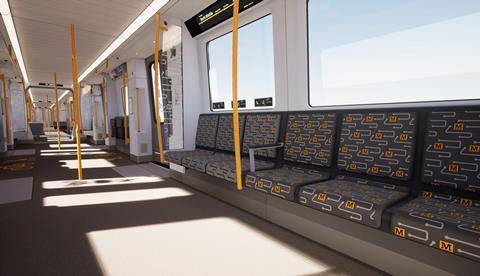 There will be digital information screens throughout the units, in addition to central strip screens with next stop text and audio information. The screens will be visible from 90% of all seats and 100% of priority seats.
While the number of seats per trainset is 12 lower than on the current fleet, the Metro Flow infrastructure programme to increase frequencies from five to six trains per hour will provide a net increase in seats.
Far-reaching consultation
Finalisation of the design follows what transport authority Nexus said was 'one of the most far-reaching public consultations the global rail industry has seen'.
The consultation undertaken with Newcastle University's OpenLab digital research team and Stadler's Zürich-based designers made use of interactive online platforms and augmented virtual reality workshops, and attracted 23 000 responses from passengers, staff and user groups.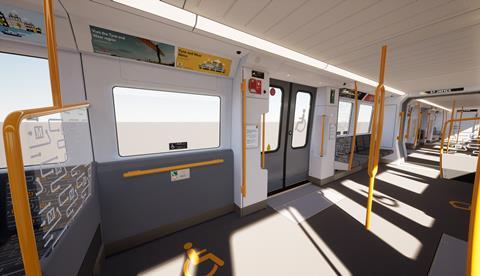 The draft design featured cushioned perch positions along the walls behind the wheelchair areas, but these have been swapped for a horizontal handrail based on feedback from wheelchair users. The colour of the wall panels has been lightened to provide greater contrast with the floors, while the floor markings for wheelchair and multi-use spaces have been changed from white to yellow to provide greater visibility.
Passengers preferred a double grab pole with two parallel vertical bars at hand height from three alternatives offered.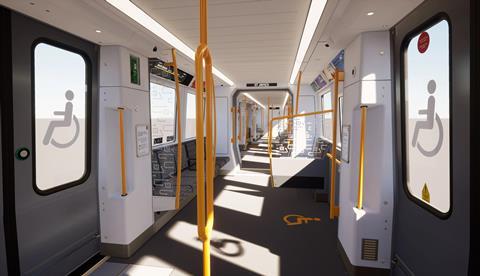 'We've listened to the views of thousands of people during the consultation process and we have acted on that feedback by making changes to a range of the interior features', said Metro Development Director, Neil Blagburn on June 30. 'We have added 12 more tip-seats seats to the carriages, a more bespoke space for wheelchairs, and double grab poles. The poles and handrails will all be in the distinctive yellow Metro colour scheme.
'The seats will be made from a hard-wearing material and will have a sleek grey colour. They were designed by our very own in-house team and they will incorporate the iconic M logo in the Calvert font that we use on all Metro signage.'