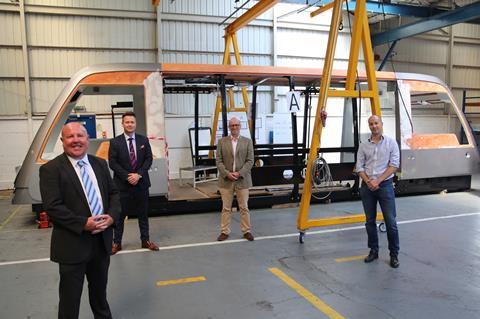 UK: A prototype battery-powered carbon fibre and metal Very Light Rail vehicle is under construction at NP Aerospace's plant at Foleshill in Coventry.
The VLR project to develop low-cost technologies which would make light rail a viable option for medium sized cities is being managed by the Warwick Manufacturing Group at the University of Warwick, in partnership with Coventry City Council and Transport for West Midlands.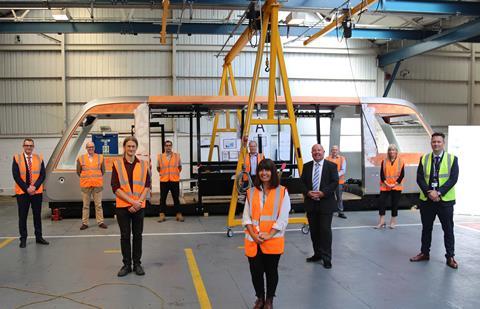 The prototype vehicle has been designed by WMG and Transport Design International, with a target of achieving a mass not exceeding 1 tonne per linear metre. It will have a capacity of 56 passengers.
Testing is scheduled to start early next year at the VLR National Innovation Centre which being developed in Dudley. It is envisaged that this would then be followed by passenger operation of production vehicles on a proposed line to be built in Coventry.
'The Coventry Very Light Rail project will deliver a step change cost reduction for light rail in the UK', said WMG Associate Professor Dr Darren Hughes on August 28. 'We are really proud that this marks the beginning of the journey to roll out low cost, rail-based transport for medium sized cities in the UK.'
NP Aerospace CEO James Kempston said assembly of the prototype 'utilises NP Aerospace's capability in assembling and delivering complex defence vehicle programmes and extends this into the rail and transportation sector'.
Coventry route
The proposed line in Coventry would run 8 km from the railway station via the city centre to Walsgrave Hospital, with around 80% of the route operating in mixed traffic. Services would be operated using a fleet of production vehicles, with consultancy WSP having forecast ridership at up to 9 million passenger-journeys a year.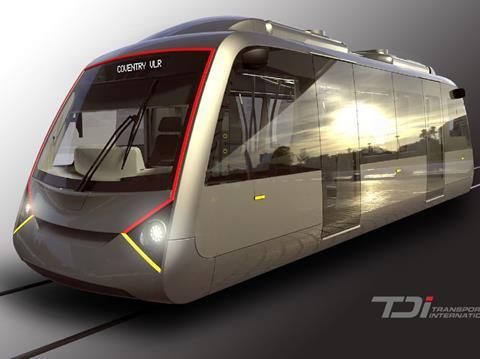 Work is also underway to develop affordable trackform that could be installed quickly and cheaply, and which could also be easily removed to allow access for utility maintenance.
Engineers from the University of Warwick are working on the track design with Coventry City Council, French civil engineering company Ingerop Conseil et Ingénierie and its UK subsidiary Rendel.
'This project will be the first of its kind in the world', said Cllr Jim O'Boyle, Cabinet member for Jobs & Regeneration at Coventry City Council. 'It is being led by world beating local automotive experience and is using cutting-edge materials. The proposed VLR network is key to our vision for transport here in Coventry. We want our public transport to be efficient, affordable and most importantly environmentally friendly. I believe it's going to revolutionise how we all travel in this city.'
A separate initiative to develop a lightweight diesel rail car for operation on heavy rail lines is being undertaken by the Revolution VLR consortium of WMG, Transport Design International, Eversholt, Cummins, Prose, Transcal Engineering and RDM Group.
The VLR project was described in detail in the Spring 2020 issue of Metro Report International magazine.