GERMANY: Weekday services on the Wuppertal Schwebebahn suspended monorail are to be withdrawn for up to a year to enable urgent guideway repairs, the operator has confirmed.
Following an emergency meeting of its supervisory board on July 2, municipal transport and utility company Wuppertaler Stadtwerke announced that weekday services would be suspended from August 11, following the summer holiday period, with a bus replacement being provided. However, the monorail would continue to operate at weekends. According to WSW, this reduced timetable would 'probably remain in place until summer 2021'.
The 13·3 km line had only reopened in August 2019 following a nine-month closure to facilitate infrastructure renewals and the installation of ETCS Level 3 train control using Alstom's Atlas technology.
WSW explained that problems had emerged at the end of last year with the running surfaces of the double-flanged steel wheelsets on its GTW 2014 trainsets. These had damaged the guideway rails, necessitating urgent repairs.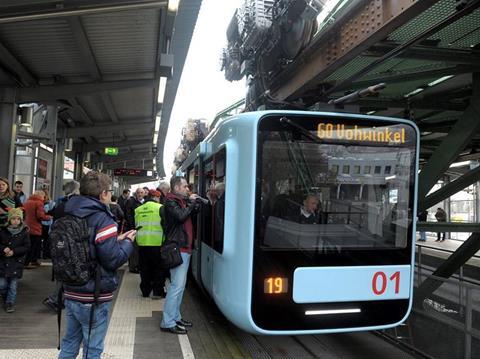 The operator has been complaining about defects in its new fleet for the past four years. Eight trains were taken out of service earlier this year after the detection of failures in bonded joints on the lightweight vehicles, which posed the risk of parts of the air-conditioning systems falling off. The trains reportedly could not be repaired immediately because the certification for Düsseldorf-based Kiepe Electric to undertake such bonding work had lapsed. The glued joints are now being checked for fatigue damage every three weeks, against the eight years originally envisaged. WSW confirmed that it was preparing a lawsuit against the manufacturer, alleging poor performance and seeking damages.
Styled by büro+staubach, the 24 m long Generation 15 trainsets entered service from December 2016. The 31 three-car sets were supplied by the then Vossloh Kiepe, under a €122m contract awarded in November 2011. Kiepe provided the traction equipment, with the vehicles being assembled by Stadler Rail Valencia and Prose providing development and manufacturing support services.