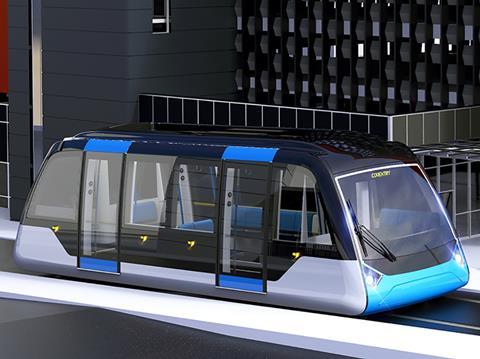 UK: A prototype vehicle for testing at the Very Light Rail National Innovation Centre in Dudley is to be designed by Transport Design International and produced in partnership with automotive company RDM.
The R&D proof of concept project is being managed by researchers from the University of Warwick's Warwick Manufacturing Group, in collaboration with Coventry City Council and Transport for West Midlands. It is being funded with £12·2m from the government's Local Growth Fund.
The battery-powered VLR vehicle would be capable of carrying 20 seated and up to 50 standing passengers, and it is intended that it would be capable of operating autonomously without a driver.
The contract for production of the prototype was announced on June 14, and it is expected to be ready for testing in mid-2020. Subject to successful tests and obtaining a Transport & Works Act order, it is hoped that construction of a permanent very light rail line on a still to be decided route in Coventry could begin in 2024.
The award of the vehicle contract 'is a really important milestone in the development of a very light railway system in Coventry', said Councillor Jim O'Boyle, cabinet member for jobs and regeneration at Coventry City Council. 'Battery technology is evolving all the time and creating a new very light rail system in Coventry will be a world first. Routes will be considered, and since overhead cables won't be needed, the light railway will be low-cost, quiet and environmentally-friendly.'
WMG Associate Professor Darren Hughes said there were exciting opportunities for innovation in the rail sector, and 'lightweight technologies that will be introduced during this project have the potential to revolutionise public transport whilst also strengthening the UK High Value Manufacturing sector.'
WMG and TDI are also involved in the Revolution VLR consortium which in a separate project is developing a demonstrator lightweight battery-diesel railcar for low-traffic railway lines.