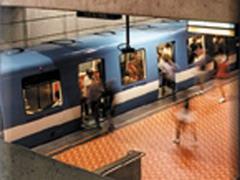 CANADA: Metro expansion and the electrification of commuter routes lie at the heart of a C$168bn strategic plan to improve Montréal's public transport which has been announced by Agence Métropolitaine de Transport.
Vision 2020 contains three metro projects; a Blue Line extension east towards Anjou, a northern extension of the Orange Line to Bois-Franc and Laval, and a South Shore extension of the Yellow Line to Longueuil.
Only the Deux-Montagnes commuter line is currently electrified but AMT would like to see the wires extended to include five other lines if agreements can be reached with track owners Canadian Pacific and Canadian National.
AMT is to set up a committee to study aspects of the plan in more detail and consider how to fund and implement the various projects.