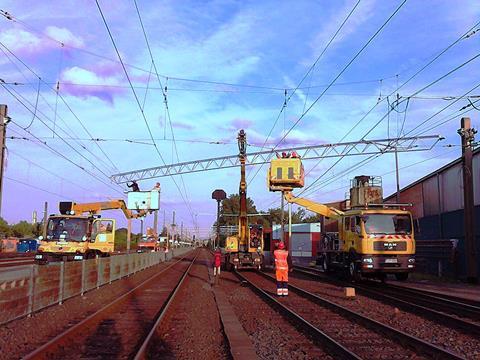 GERMANY: Häfen & Güterverkehr Köln has awarded SPL Powerlines Germany a contract to install electrification equipment as part of the doubling of 2·1 km of single track line between Brühl and Badorf on the Vorgebirgsbahn inter-urban light rail Line 18 between Köln and Bonn.
The work began this month and is scheduled for completion in 2017. Most of the electrification equipment installation is to be done before the track and civil engineering works are completed, and so the overhead lines will be mounted on 20 aluminium gantry portals and cantilever supports which will be swung into position and accurately aligned once the track is in place.
Powerlines Group said a total of 5·6 km of 150 mm² catenary wire, 3 km of Ris 120 contact wire and around 1 km of feeder cable would be required, along with 90 Peiner masts and the accompanying earthing equipment, and 55 diagonal and dual-track cantilevers.