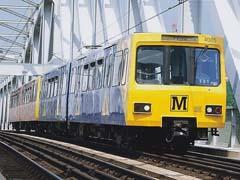 UK: Tyne & Wear Metro operating contractor DB Regio has awarded Wabtec Rail a £25m contract to overhaul the network's 90 two-car trainsets on behalf of local transport authority Nexus.
The 'three-quarter life refurbishment' will be undertaken at Doncaster and will run to 2015. It includes corrosion rectification, an exterior repaint, new control wiring and cab air conditioning, seat refurbishment and a general overhaul. Traction equipment is considered to be in a good condition and will be retained.
Aiming to extend the trains' service life to 2025, the project is part of a £350m modernisation of the metro serving Newcastle and Sunderland, which is owned by Nexus and operated by DB Regio under a seven-year contract which started on April 1.