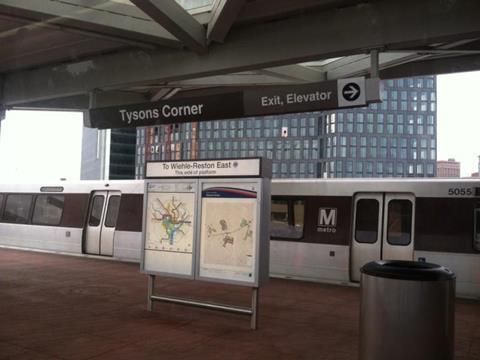 USA: On August 20 Transportation Secretary Anthony Foxx announced a $1·28bn Transportation Infrastructure Financial Innovation Act loan for the second phase of the Washington metro Silver Line extension.
This is part of a $1·87bn combined commitment of TIFIA loans for the Silver Line Phase 2, which the Department of Transportation says is the largest ever amount of TIFIA assistance for a single project.
The 18·8 km first phase of the Silver Line was inaugurated on July 26. This branches off from the Orange Line between East Falls Church and West Falls Church and runs to Wiehle Avenue in Reston with five stations. According to Washington Metropolitan Area Transit Authority, nearly 220 000 passenger-journeys were taken during the first week of service.
Phase 2 would extend the line by 18·3 km and six stations from Wiehle Avenue to Dulles International Airport and Ashburn, and is expected to open in 2018. Ridership on the Silver Line is expected to reach 85 700 passengers/day by 2030.
The Capital Rail Constructors consortium of Clark Construction Group, Kiewit Infrastructure Group, Parsons Transport Group and Dewberry was awarded a $1·18bn design-build contract in May 2013. Metropolitan Washington Airports Authority is managing construction.
'The first phase of the Silver Line has been an overwhelming success, and we look forward to ensuring the second half is just as successful, with the help of this $1·28bn loan from the federal government', said Foxx.