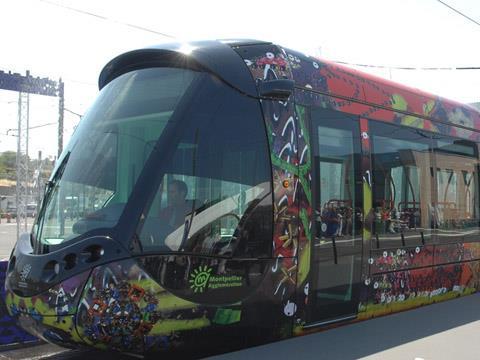 FRANCE: The first tram for the future Line 3 was unveiled in Montpellier on June 28. The 'colourful and original' styling of the 43 m long Alstom Citadis is based on a maritime and water theme designed by Christian Lacroix, complementing the swallow and air theme used on Line 1 and flower and earth theme on Line 2.
Line 3 is under construction at a cost of €530m for opening in early 2012. It will run 19·8 km from Juvignac in the west, through Montpellier to Pérols on the coast in the south, with a branch from Boirargues to Lattes.
In 2009 Alstom was awarded a contract to supply 19 trams for Line 3, along with a further five trams to increase capacity on Lines 1 and 2. They are being assembled at the company's La Rochelle plant, with components from five other French plants.