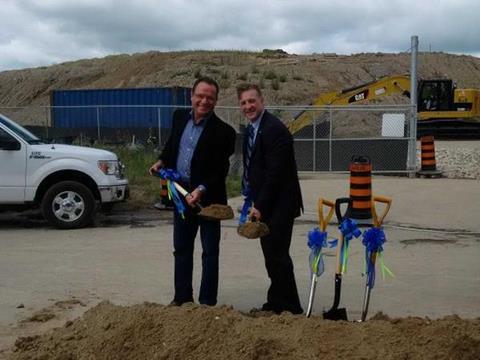 CANADA: A groundbreaking ceremony was held on August 21 for Stage 1 of the ION Light Rail Transit project on Dutton Drive in Waterloo, the future site of the operations and maintenance facility.
Stage 1 covers the 19 km of light rail from Conestoga Mall in Waterloo to Fairview Park Mall in Kitchener. Construction is also due to begin shortly on 17 km of bus rapid transit from Fairview Park Mall to Ainslie Street in Cambridge, which will be converted to light rail as part of Phase 2.
The Waterloo – Kitchener section is due to enter service in 2017, two years after BRT services commence between Kitchener and Cambridge.
The GrandLinq consortium of Keolis, Plenary Group, Meridiam, Kiewit and Aecon won a 33-year public-private partnership contract to design, build, finance, operate and maintain Stage 1 earlier this year.
Funding for Stage 1 all three levels of government: C$300m from the Province of Ontario, one-third of eligible costs up to C$265m from the federal government through the Building Canada Fund and C$253m from the Region of Waterloo.