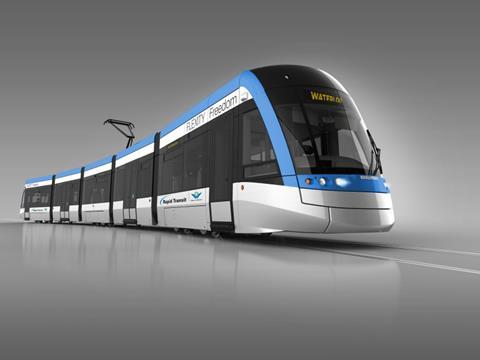 CANADA: The Region of Waterloo and the GrandLinq consortium of Keolis, Plenary Group, Meridiam, Kiewit and Aecon have achieved financial close on the 33-year public-private partnership contract to design, build, finance, operate and maintain Stage 1 of the ION light rail project.
GrandLinq was selected as preferred bidder in March, with financial close announced on May 9. Construction of the 19 km Stage 1 from Conestoga Mall in Waterloo to Fairview Park Mall in Kitchener with 16 stops is scheduled to start this month for completion in 2017.
The region is providing C$253m, the province of Ontario C$300m, and the federal government one-third of eligible costs up to C$265m. Financing was arranged by Alberta Treasury Branches as lender and CIBC World Markets as senior bond underwriter. The region said favourable interest rates meant final construction financing costs were C$2·5m lower than had been expected in March, and the 30-year financing costs have been reduced by C$11·5m.
The project includes a three-year construction phase, with the GrandLinq Contractors partnership of Aecon and Kiewit to undertake the work. Aecon's share of the construction contract is expected to be C$250m. The GrandLinq consortium will then operate and maintain the line for 30 years.
The Region of Waterloo will own the infrastructure and vehicles, set fares and service frequencies, be responsible for customer service and system-wide integration, receive all fare revenue and monitor performance. In August 2013 it ordered 14 five-section 100% low-floor Flexity Freedom light rail vehicles from Bombardier Transportation at a cost of C$66m.
Keolis values its share of the PPP contract at C$550m. 'We are very proud to have been chosen by Region of Waterloo and we look forward to developing a strong partnership,' said Bernard Tabary, CEO, International at Keolis. 'Bringing the operator's perspective from the design and construction phase is essential to delivering an efficient and sustainable system. By using our "think like a passenger" approach we will bring a new travel experience to local citizens.'