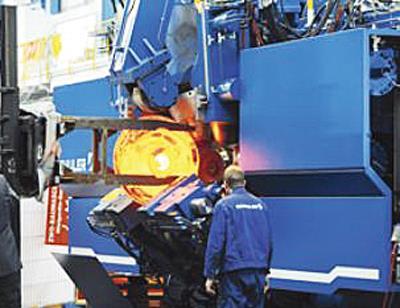 CHINA: German press manufacturer Schuler has developed a new design of wheel rolling machine for forging monobloc wheelsets. This forms a key element in a forging line currently being shipped to a Chinese manufacturer.
With no mandrel, the wheel is turned using dynamic servo motors which transfer the torque from the main drive to the pre-formed wheel via main and conical rolls. 'The web rolls start the preform rotating, so that it can be rolled into an almost fully finished railway wheel', says Dr Walter Osen, Head of Schuler's Forging business unit.
The drive is powerful enough to roll a wheel in less than 20 sec, allowing the line to achieve outputs of up to 75 wheels per hour. At the same time, an innovative cooling concept improves the life of the rollers which contact the red-hot wheel blanks.
The rolling machine is designed to produce a wide range of different wheel geometries. As well as 175 mm thick locomotive and rolling stock wheels up to 1450 mm in diameter, the system can also manufacture crane wheels up to 300 mm thick.
Job Engineering Software enables the user to simulate the entire process, using an integrated FEM program to check the calculated forming commands before the data are transferred directly to the machines.
In addition to the wheel rolling machine, the new Chinese line includes three high-performance hydraulic presses. Preforming is done using two forging presses rated at 5000 and 10000 tonnes. After the hub is offset axially and broached, the wheel is then calibrated in a 5000-tonne crimping press. The fully-automated forging line with robots is rounded out by a de-scaling device, a flexible marking station and a laser measuring system.