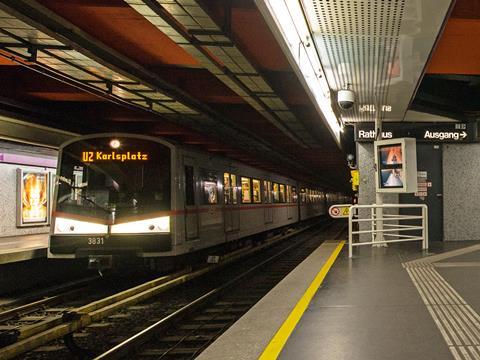 AUSTRIA: The future Wien metro Line U5 will have driverless operation, city transport company Wiener Linien announced on June 2.
Managing Director Günter Steinbauer said U5 would provide a good opportunity to test fully automatic operation. This is expected to permit shorter headways and better service regulation and fault response. Staff would provide customer service rather than drive the trains.
The first stage of Line U5 will combine the Karlsplatz – Rathaus section of the existing Line U2 with a new section of line to Frankhplatz-Altes AKH, which is expected to open in 2023. The stations would be equipped with platform screen doors, with CCTV coverage and intrusion monitoring.
Tenders are to be called shortly for the supply and maintenance of up to 45 metro trainsets for use on U5 and on lines U1 to U4 where they would operate with drivers. Some will replace 24 existing Silberpfeil trains and some will expand the fleet to meet future demand. The new stock would be required to be fully accessible, with air-conditioning, CCTV and modern passenger information.
Procurement of the trains is to be undertaken in two stages. The technical capabilities of interested suppliers would be verified in the first phase, with prequalified companies then progressing to a second stage of detailed negotiations before the winner is chosen. Wiener Linien envisages selecting a preferred supplier in late 2016, with the first vehicles ready for testing in 2018-19 and production trainsets arriving in 2020-29.