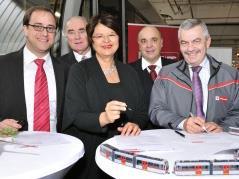 AUSTRIA: A Bombardier Transportation- Vossloh Kiepe consortium has won an order from transport authority Wiener Linien for five new T1 trainsets for light metro line U6.
The €60m deal announced on December 16 is an option under a contract signed in 2004. Bombardier's share is worth €46m.
Delivery of the air-conditioned light rail vehicles will run from autumn 2013 to 2014. The 26∙8 m long and 2 650 mm wide LRVs will enable Wiener Linien to reduce intervals at peak times down to 2½ min from the current 3 min resulting in 20% more capacity.
According to Bombardier, regenerative braking and LED lighting will reduce each vehicle's lifetime energy consumption by 2∙5 million kWh and CO2 emissions by 1 500 tonnes compared to existing fleets.