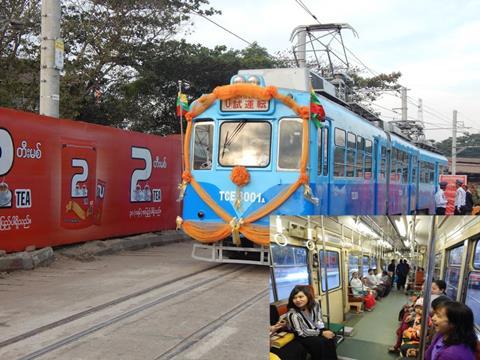 MYANMAR: The first phase of a light rail line in Yangon was officially opened with a ceremony on January 10.
The 4·8 km east-west route from Linsadaung to Wardan Jetty uses a newly electrified on-street freight railway running along Strand Road, and a three-section ex-Hiroshima tram with capacity for 180 passengers. Myanma Railways operates six services per day in each direction between 08.00 and 16.00 and charges a fare of 100 kyat.
Funding for the project has come from the Ministry of Rail Transportation and West Japan Railway, which signed a US$3m investment agreement in July 2015. The Japanese Ministry of Land, Infrastructure, Transport & Tourism and Japan International Co-operation Agency have provided technical assistance and training.
Extensions from Wardan to Kyeemyindaing and from Linsadaung to Pazundaung would bring the route to 11·3 km and are due to be completed this year.
These would allow interchanges at both ends with the 46 km Yangon Circular Railway, which is to be upgraded with the help of a US$250m soft loan from Japan. The upgrades would include refurbishment of the 38 stations on the route, new rolling stock, and signalling and track upgrades.