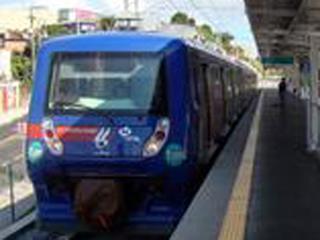 BRAZIL: ABB confirmed on September 26 that it had won a US$50m contract from São Paulo suburban operator CPTM for upgrading and reinforcement of the power supply network on two of the city's busiest routes.
The work will support increased train frequencies on Lines 8 and 9 serving the western and southern parts of the conurbation.
The contract forms part of a capacity expansion programme announced by state governor Geraldo Alckmin on August 3 which includes the procurement of additional rolling stock and three packages of power supply renewal works. CPTM is also investing in route extensions, station renovations and other infrastructure improvements to accommodate rapidly increasing demand.
CPTM operates six lines with a total length of 260 route-km, serving 89 stations spread across 22 municipalities; it carries more than 2·3 million passengers per day. The 41·7 km Line 8 runs west from Júlio Prestes in the city centre to Eng Cardoso and Amador Bueno, carrying around 414 000 passengers each day. It interchanges at Osasco with the 31·8 km Line 9, which runs south around the western side of the city to Grajaú handling 266 000 passengers a day.
Under the contract, ABB will be working with Spavias to refurbish several existing substations and construct additional facilities to support a southern extension of Line 9, where traffic has increased by 36% since 2010. The company will provide high, medium and low voltage switchgear, rectifiers, protection and control equipment, as well as the supervisory control systems. ABB is also responsible for system design, engineering, installation and commissioning. The project is due to be completed by 2014.