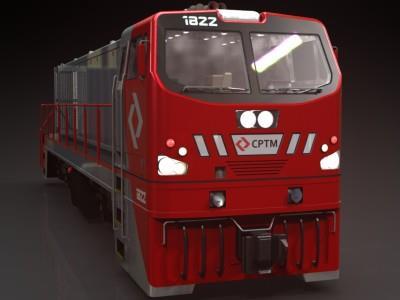 BRAZIL: São Paulo commuter rail operator CPTM has ordered an initial batch of four diesel locomotives from local manufacturer EIF Locomotivas, with an option for more locos.
CPTM operates six lines totalling 260 route-km, serving 89 stations, and carries more than 1·7 million passengers a day. The 1 600 mm gauge diesel locomotives will primarily be used to operate maintenance trains and provide rescue services for the fleet of 1 167 EMU cars.
Under an agreement announced on June 25, the four EIF2000 locomotives will incorporate a Sygnet Power Module supplied by Sygnet Rail Technologies of Tenino, Washington state. The self-contained, integrated modules incorporate a 2 000 hp Cummins QSK-series diesel engine, traction alternator, cooling system, dynamic braking equipment and control systems in a standard configuration.
The Sygnet Power Module has been designed for quick access during maintenance, and is equipped with a comprehensive diagnostics system to boost reliability and reduce operating costs. A sophisticated telematics and reporting system continuously monitors the locomotive's operational status; this is expected to result in significant fuel efficiency improvements, reduced emissions and lower noise levels.
'Our partnership with Cummins and our control systems allow Sygnet Rail Technologies to produce a line of extremely reliable, fuel-efficient, environmentally-friendly and cost-effective locomotives', said President & CEO David Swanson. 'These locomotives will provide CPTM with high-quality performance, and will be the cleanest diesel locomotives ever delivered in Latin America.'