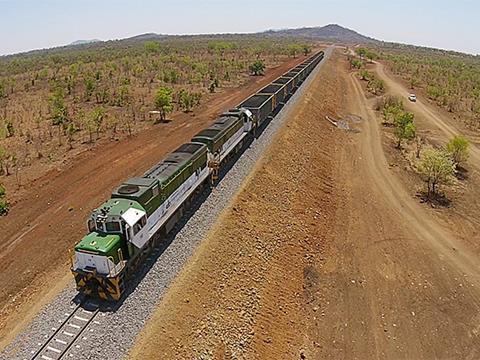 AFRICA: Siemens Rail Automation says that it expects to commission the Positive Train Control signalling system it has installed on the Nacala Corridor linking Malawi and Mozambique 'by the end of the year'.

The supplier says that the Trainguard Sentinel PTC it is supplying to the Corredor Logístico Integrado de Nacala joint venture of Mozambique state railway CFM (20%) and Brazilian mining firm Vale (80%) is 'a combination of North American train control technology and European standards', meeting SIL2 integrity. Under a €70m contract announced in November 2013, Siemens is to provide its Train Sentinel Positive Train Control, train integrity monitoring, Westrace solid-state interlockings and telecoms based on a microwave network with Tetra track-to-train data transmission.

An ultra-high frequency radio link is provided to ensure end-of-train detection can be maintained; a priority for Siemens was to ensure minimal lineside assets were required, ruling out the use of track-mounted balises in plain line sections for example. Siemens has also fitted out a control centre in Nacala and is providing one year of maintenance.

The Nacala project has seen existing 1 067 mm gauge lines upgraded and a new line built in Malawi as part of the US$1·1bn development of a 912 km heavy haul corridor which will link coal mines at Moatize with the new deepwater port of Nacala-à-Velha. Test trains began running along the route in November 2014, but the extra capacity made available by PTC will enable the railway to match the demand for coal transhipment as the port complex comes fully on-stream.

Read more about the construction of the new line through Malawi in the June 2016 issue of Railway Gazette International.