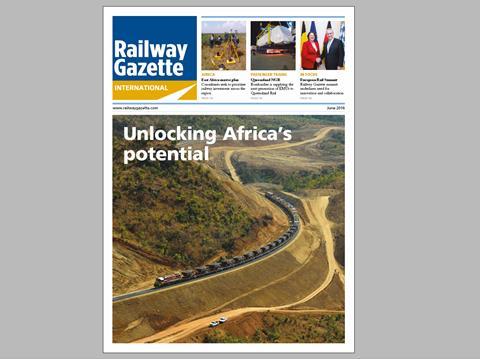 Feature articles in the June 2016 issue of Railway Gazette International magazine, the leading business journal for railway operators and suppliers, read in 140 countries. Subscribe to Railway Gazette International today.
Comment
News
Main Line
Urban Rail
Market
Industry
Innovations
Pointers
Analysis
Eurostar heads north, Chinese railway debt spirals, situational awareness a factor in Amtrak 188 accident
Africa
Carrying coal to the sea
The construction of a dedicated heavy haul railway across southern Malawi forms a key element in Vale's plan to export coal from Mozambique's Moatize coalfield through a new deep-water port near Nacala
Expansion beckons in East Africa
The East African Community views rail as a key element in its long-term development policy. CPCS was commissioned to draw up a strategy to enhance and expand the network
Standard gauge line to open next year
Little more than 30 months after the construction contract was awarded, Kenya's 1435 mm gauge line between Mombasa and Nairobi is 75% complete
Gensets gain ground in Gabon
US manufacturer Railserve has shipped six Dual Leaf genset locomotives to Gabonese concessionaire Setrag
Passenger rolling stock
Combining the best of local and global
The first of 75 six-car EMUs being supplied and maintained by Bombardier under a PPP concession to renew and expand the South East Queensland suburban fleet arrived in Brisbane earlier this year
Emphasis on efficiency
Technical innovation will help to reduce energy consumption and maintenance costs, according to speakers at the 43rd conference on Modern Rolling Stock, hosted by Technische Universität Graz in April
Onboard services
Keeping passengers entertained on the go
Eurostar has introduced a novel entertainment, information and wi-fi platform on its new e320 trainsets which mitigates the demand for large-scale web streaming over mobile networks
Onboard services in focus
Rocky Mountaineer orders Stadler dome cars, Japanese EMU for all seasons, DB selects Icomera for ICE wi-fi contract
Of rice and rails
The provision of catering on Chinese trains is changing, reports Andrew Benton
In focus
A regional renaissance
Underpinned by a substantial programme of infrastructure investment, Italy's Piemonte region has developed an intensive suburban network based on a clear brand identity, clockface timetables and the use of social media
More collaboration and faster innovation
The second European Rail Summit organised by the Railway Gazette Group took place in Brussels on April 27-28
Research & skills
Pesa plans R&D expansion, Rail Week seeks to bridge UK skills gap
Forum
People
Dieter
Sidetrack
Diary
Viewpoint
Viewpoint
Luxembourg's Minister of Infrastructure & Sustainable Development François Bausch explained the importance of the Fourth Railway Package at the European Rail Summit
Railway Gazette International is the leading business journal for railway operators and suppliers, read in 140 countries. Subscribe to Railway Gazette International today.