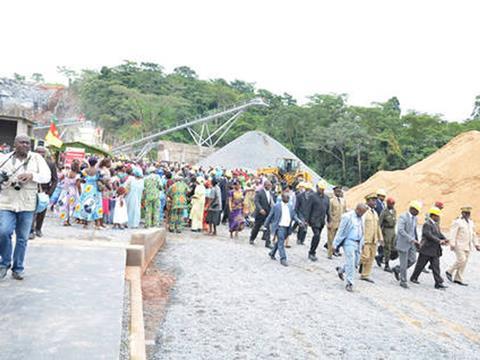 CAMEROON: Railway concessionaire Camrail has opened a ballast quarry at Belabo to support its track modernisation works.
'This quarry is an exciting project that will make a significant contribution to the technological transformation of our railway line', said Camrail President Sali Hamadou. 'Camrail aims to manufacture 290 000 bi-block sleepers and produce 245 000 m3 of ballast that will be used to renovate 175 km of track between Batchenga and Ka'a.'
The Ebaka quarry was inaugurated by Minister of Transport Robert Nkili, who said Bolloré Africa Logistics subsidiary Camrail was a privatisation success story. 'This partnership has always honoured its commitments: its development policy and labour relations are a model', the minister said. 'The state has been a winner and the company has been a winner. The local population too'.
The World Bank has provided funding to support the €3·5m investment in the quarry, which has created 80 jobs.