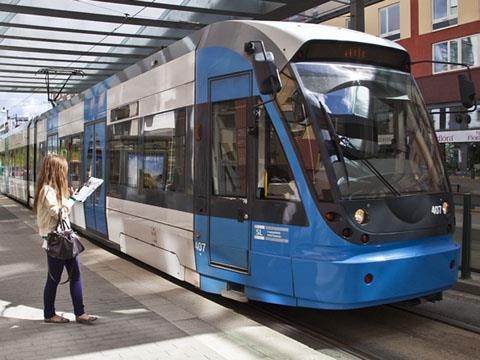 SWEDEN: Deutsche Bahn subsidiary Arriva took over from Veolia as the operator of Stockholm's Nockebybanan, Tvärbanan and Lidingöbanan light rail lines on August 20.
In November 2011 Storstockholms Lokaltrafik selected Arriva for two parallel operating contracts covering local bus and light services. The overall package runs for 12 years and is largest integrated multi-modal transport deal in Sweden, accounting for 94 million passenger-journeys a year and doubling the size of Arriva's Swedish operations.
The start dates are staggered to reflect the expiring of the previous agreements. The first phase saw 1 100 staff transferring to Arriva on August 20 to operate the light rail routes and 255 buses serving the western and northern suburbs of Bromma, Sollentuna, Solna and Sundbyberg. Together, these are expected to account for 61 million passenger-journeys.
A second contract starting on January 6 2013 will cover the narrow gauge Roslagsbanan, currently operated by the Roslagståg joint venture of DSB and Svenska Tågkompaniet, adding a further 101 EMU cars. Together with a further 229 buses serving Norrort, this will bring another 920 staff, and add 33 million passenger-journeys.
SL has set minimum service levels, with Arriva being incentivised to grow ridership. 'Stockholm's transport system will lead the way in integrated travel and we are excited to be playing a pivotal role', said David Evans, Managing Director of Arriva's Mainland Europe division. 'By providing joined-up services that are easy to use, and which take people where they need to go, we aim to increase train and bus patronage in Stockholm. We will focus on improving each element of our customers' journeys.'