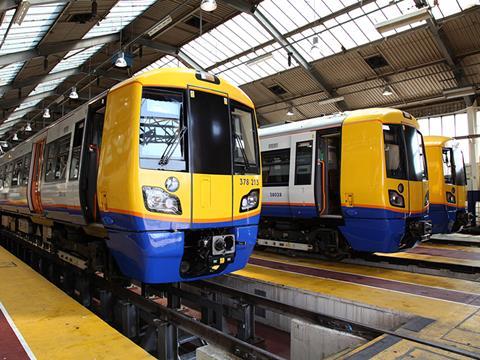 UK: Transport for London named Arriva Rail London Ltd as preferred bidder for the next London Overground inner-suburban passenger operating concession on March 18, with formal award subject to the 10-day regulatory standstill period. The £1·5bn agreement will run for 7½ years from November 13 2016, with an option for up to two more years.
Overground services are operated under a concession awarded by TfL rather than a franchise awarded by the Department for Transport. TfL will continue to be responsible for setting fares and marketing the services, and will retain revenue from ticket sales, advertising, retail and car parking. The operator will be responsible for ticket retailing and revenue protection.
TfL said the new agreement would include station modernisation and the introduction of more frequent services on some routes, as well as the entry into service from 2018 of the 45 four-car Bombardier Aventra EMUs which are on order for use on the Gospel Oak – Barking line and routes from Liverpool Street station. Operating hours will be extended on some routes, and there will be services on some routes on the December 26 public holiday.
TfL said Arriva will be expected to deliver 'sustained improvements' in performance levels, with punctuality measurements to be tightened from 5 min to 3 min of the scheduled arrival time. Measures will be implemented to encourage closer working with Bombardier and infrastructure manager Network Rail, with the contract penalising Arriva should services be impacted by incidents caused by other passenger and freight train operators or NR.
Deutsche Bahn subsidiary Arriva currently operates Overground services through the LOROL joint venture with Hong Kong's MTR Corp. Bids for the next contract had also been submitted by MTR Corp, Metroline Rail and the LoKeGo joint venture of Keolis (UK) and Go-Ahead Holding.
'It is exciting to be given the opportunity to build on the major improvements we have made in recent years and we are delighted to be playing a key role in the next phase of London's growth and development', said Chris Burchell, Managing Director of Arriva's UK trains division. 'Our role is to ensure this success story continues and customer satisfaction levels remain high, helped by 1 300 employees who understand the network inside out.'
MTR Corp said it was 'disappointed' that its 'strong and competitive' bid had not been selected. It would 'continue to look for other suitable opportunities to bring our experience and expertise to railways in the UK and elsewhere in Europe'.
Mayor of London Boris Johnson has asked TfL to apply for Transport & Works Act powers for construction of the Barking Riverside extension of the Gospel Oak – Barking line.