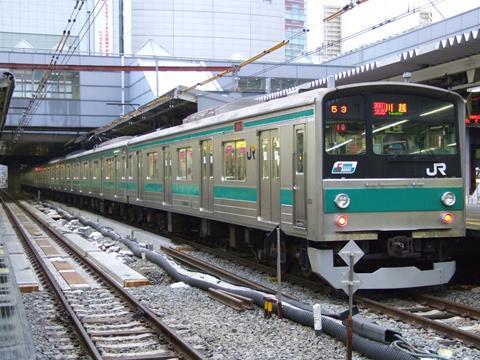 INDONESIA: KAI Commuter Jabodetabek, the subsidiary of national railway PT KAI which operates services over the electrified suburban network around Jakarta, has taken delivery of a fleet of 30 second-hand EMUs acquired from East Japan Railway as part of a fleet renewal programme.
Dating from the mid-1980s, the high-density Series 205 EMUs were used on JR East's Saikyo Line until the end of October; a further 20 trainsets from the Kawagoe Line are to follow under an agreement covering the transfer of 180 EMU cars in total plus technical support.
Speaking to local press, KCJ Managing Director Tri Handoyo said the Series 205 cars would offer a substantial increase in standing capacity at peak times over existing designs because of the provision of folding seats throughout.
He added that the purchase of second-hand rolling stock from Japan, which shares the 1 067 mm gauge, would prove far more cost-effective than buying new vehicles, claiming the Series 205 could have 20 years' more service life to come.
The government hopes to procure up to 160 trains annually to 2019 to increase capacity on suburban services.