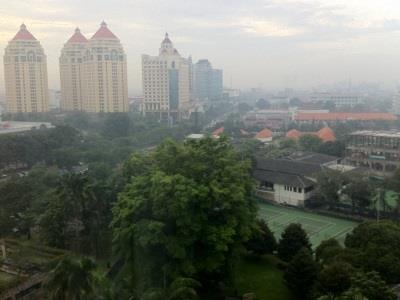 INDONESIA: On June 11 project manager PT Mass Rapid Transit Jakarta signed contracts for the construction of Jakarta metro's first line. This follows the official 'soft launch' of the project on May 2; Jakarta Governor Joko Widodo was again present, and urged the contractors to start construction 'before October'.
The 15·7 km metro line will connect Lebak Bulus in the south with the Hotel Indonesia traffic circle. There will be 13 stations, of which six will be underground. Design capacity is 173 000 passengers/day.
In May the city authorities announced the winners of the tenders for the three underground civil works packages. A consortium of Shimizu, Obayashi, Wijaya Karya and Jaya Konstruksi will carry out two of these, and Sumitomo Mitsui Construction Company and PT Hutama Karya will undertake the other one.
Wijaya Karya director Budi Harto said that heavy equipment was expected to arrive in October, but did not confirm when construction would start. 'We realise this project will be complicated because it will be built among the hustle and bustle of Jakarta. Therefore, we expect support from PT MRT and the governor so the project will run smoothly,' he added.
Three further civil works packages will be awarded for elevated sections, and there are separate tenders for infrastructure and rolling stock. PT MRT has said that tenders for the remaining construction packages had been completed and would be announced soon. It also confirmed that it had signed a contract with Oriental Consultants for consultancy services and project supervision.
Construction of the first phase will be funded by a ¥125bn soft loan from the Japan International Cooperation Agency. The central government will repay 49% of the loan and the city administration will repay 51% over 40 years, following a 10-year grace period. The interest rate will be less than 1% per year.