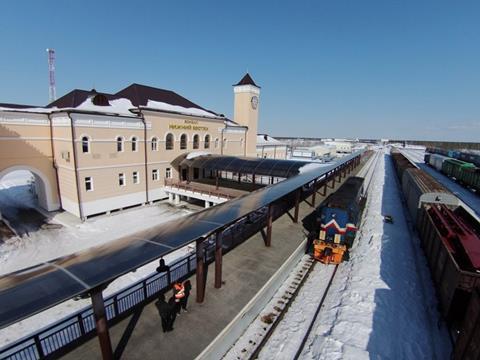 RUSSIA: Regular passenger trains have started running on the northern section of the Yakutia Railway, following celebrations on July 27 attended by State Counsellor Vyacheslav Shtyrov, on behalf of the President of the Sakha Republic Aisen Nikolayev.
Formal approval of the line for passenger operation was granted on July 19, allowing for the introduction of through rail connections from Moscow to the Yakutsk area. Tickets for the first trains went on sale on July 25, both at stations and via the RZD online booking site. Passenger services are initially operating on alternate days. From July 27, southbound train 327 departs from Nizhny Bestyakh on odd-numbered days (except the 31st of each month), with the corresponding northbound train 328 leaving Neryungri on even days from July 30.
The 1 239 km Amur-Yakutsk Mainline runs north from a junction with RZD's Trans-Siberian Railway at Bamovskaya in the west of Amur region, intersecting with the Baikal-Amur Magistral near Tynda. RZD owns the line as far as Berkakit, while the Neryungi – Tommot – Yakutsk section has been developed by the republic.
First proposed in 1904, construction of the line did not start until the 1930s. A short section at the southern end was completed in the early 1940s but then abandoned, before being reactivated in the 1970s to support the construction of BAM. Construction of the Berkakit – Tommot – Yakutsk route finally began in 1985 and tracklaying was formally completed in 2011. Around 900 km of the line is laid on permafrost. Passenger trains began running as far as Tommot in 2004, but the 436 km northern section has only been carrying freight trains since it was inaugurated in 2013.
The AYAM line currently terminates at a road interchange 6 km outside Nizhny Bestyakh, on the opposite side of the Lena River from Yakutsk. Last year the Sakha government committed to building a 5·8 km bridge across the river to reach the state capital, at an estimated cost of 76bn roubles, but at present connections are provided by ferry during the summer and a bus in winter.