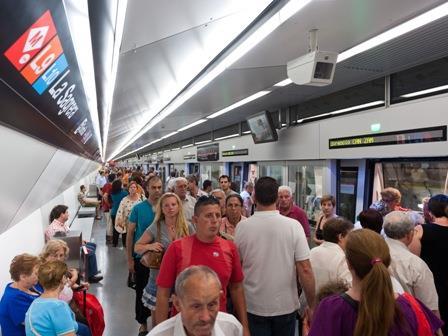 SPAIN: On June 26 José Montilla, president of the Generalitat de Catalunya, inaugurated a third section of Barcelona metro lines 9 and 10 from Bon Pastor to La Sagrera. TMB operated a 24 h service during the weekend and free commemorative tickets were distributed to mark the occasion.

The 2·8 km extension includes two new stations at Onze de Setembre and La Sagrera, with the latter providing interchanges to metro lines 1 and 5. La Sagrera will become an important transport hub; passengers will be able to transfer to Renfe's Rodalies suburban services by the end of the year, and in the longer term to metro Line 4 and high speed services.

The latest opening increases the operational segment of the 47·8 km project to 11 km and 11 stations, with driverless trains now running at 3 min headways on the shared section between La Sagrera and Bon Pastor, and at 6 min headways on the branches to Gorg and Can Zam. Normal operating hours have been introduced in line with the rest of the metro network.

The western branches of lines 9 and 10 to the port and airport will open next, in 2012, with the entire line due to be operational in 2014.