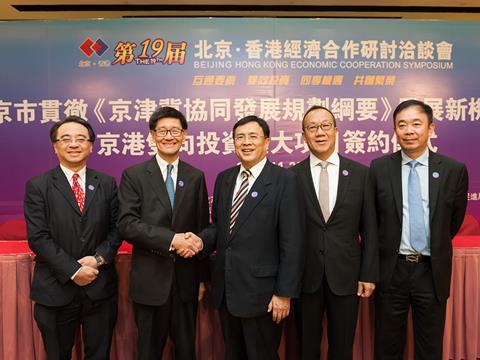 CHINA: Beijing Municipal Government and Beijing MTR Corp signed the railway systems, operations and maintenance PPP concession agreement for the future metro Line 16 on November 28.
Beijing MTR Corp is a joint venture of MTR Corp (49%), Beijing Capital Group (49%) and Beijing Infrastructure Investment Corp (2%).
The Line 16 project has a total capital cost of about 47·4bn yuan, and construction is being undertaken through two major contracts. Part A covers the civil works which are being undertaken by Beijing Infrastructure Investment Corp, while the 15bn yuan Part B contract with Beijing MTR covers electrical and mechanical systems and rolling stock as well as operations and maintenance for 30 years.
The first phase of Line 16 is scheduled to open by the end of 2016, with services on the full 50 km route from Beianhe to Wanping Town with 29 stations to commence 'after 2017'.
'Beijing Metro Line 16 will run through three major districts and connect to the city's metro network through 12 interchange stations, making passenger journeys faster and easier while enhancing the overall convenience of Beijing's metro system, which is used by 10 million passengers a day,' said Richard Wong, General Manager of Beijing MTR.
MTR Corp CEO Lincoln Leong said the company was 'most honoured to have the opportunity to extend the safe, reliable and convenient metro service that we currently provide on Line 4, Daxing Line and Line 14 to even more commuters through this fourth metro project of Beijing MTR'.