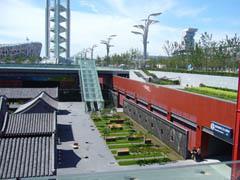 CHINA: Beijing Mass Transit Railway Construction Administration Co Ltd has awarded Siemens and its local partner, China National Railway Signal & Communication Corp, a €65m contract to supply Trainguard MT automatic train control for planned extensions to Beijing metro Olympic Line 8 and Ring Line 10.

Both lines have been in service since July 2008. The 32 km L-shaped extension of Line 10, with 23 stations, will complete the ring by linking the existing southern terminus at Jinsong with the western terminus at Bagou by the end of 2012. The extension through the southern and western districts of Beijing will eventually provide interchanges to lines 1, 4, 5, 6 and 14 as well as the Fangshan Line.

The 4·5 km Line 8 currently connects the Olympic Park to Line 10. During phase II, the route will be extended north to interchange with Line 13 at Huoying and south to the Museum of Art. The 17 km extension will add 12 stations to the existing four by the end of 2012.

Siemens Mobility will supply Trainguard MT CTBC for both extensions. The scope includes interlockings, onboard components for 82 trains and equipment for the operations control centre.