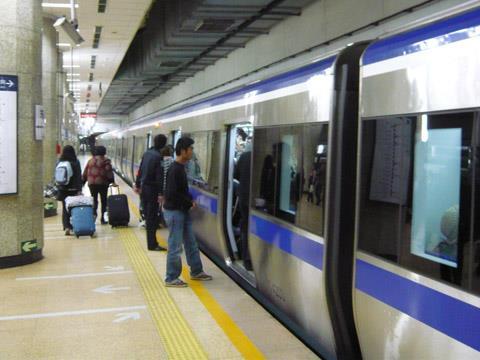 CHINA: Last month saw the start of work on the first phase of Beijing metro Line 7, between Beijing West and Jiaohuachang. The project is part of an ambitious plan to expand the capital's metro network to 560 km and 20 lines by 2015, from 200 km at the time of the Olympic Games in 2008. The first section of Line 4 is expected to open on September 28.
On July 29 two contracts totalling 2·5bn yuan were signed for CSR to supply vehicles for the Daxing Line and the second phase of Line 8.
The 21·8 km Daxing Line will run north from Tiangongyuan to Nanyuan West via Huangcun, connecting with Line 4 at Gongyixiqiao. Construction began at the end of 2007 with a target opening date of December 28 2010.
Phase II of Line 8 will see this route extended in both directions, adding 17·5 km by 2012. The line will contine north from South Gate of Forest Park to Huoying and Zhuxinzhuang, where it will connect with Line 13, and south from Beitucheng to Meishuguandongjie.