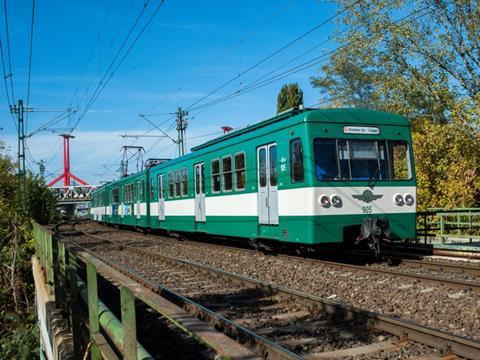 HUNGARY: Budapest Mayor István Tarlós and Minister of National Development Miklós Seszták have agreed that national rail operator MÁV is to take over operation of all HÉV suburban lines that run beyond the city boundary. This will follow the government taking over all operating costs of these lines, currently financed by Budapest municipality.
HÉV lines H5, H6, H7, H8 and H9 are currently operated by city transport operator BKV. The city is no longer able to receive EU funds to replace ageing HÉV rolling stock during the 2014-20 EU budget period, whereas MÁV would be able to invest in fleet replacement. Managing director of Stadler's Szolnok plant Zoltán Dunai has said that the company could develop an EMU from its Flirt family for use on HÉV lines.
As H7 does not leave the city boundary, operations on that route would not be transferred to MÁV. The city intends to convert this line to light rail and connect it with tram lines 1, 2, 4 and 6. This is connected with the city's bid for the 2024 Summer Olympic Games, which would use venues in Csepel on the H7 route.